The Pope John XXIII Community is a complex, dynamic organisation, just like the challenges we face every day being a family for children (often with serious disabilities), teenage mothers, people with mental and physical disorders, former drug-abusers and alcoholics, elderly people on their own, victims of organised crime, homeless people and ex-prisoners. To give all these needy people "the response they need rather than just what we can provide", over its 45-year history APG23 has founded numerous bodies, with legal status in Italy and overseas.
Cooperatives, voluntary associations, business enterprises all work together to create the foundations for the Society of Gratuitousness also operating in the working environment and constituting a little universe of solidarity and life.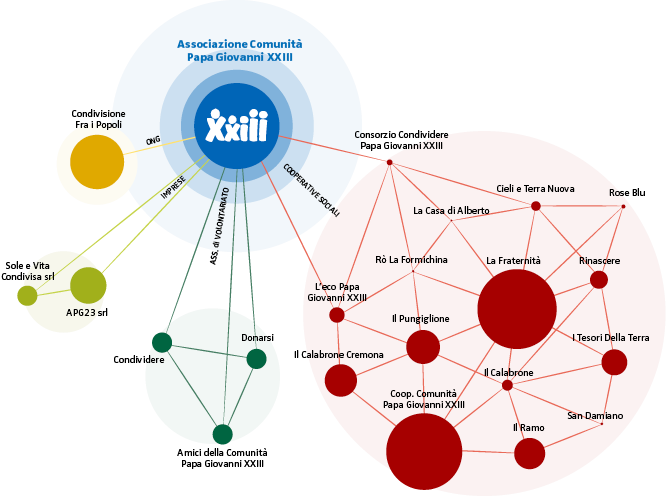 The Pope John XXIII Community is not alone in meeting this challenge, being supported by a dense network of working partnerships with individuals, associations, cooperatives, banking foundations, service providers, companies and public bodies in Italy and overseas.
This active, dynamic network makes it possible not only to maintain our day-to-day activities but also to develop new projects to respond to emergencies. In recent years, for example, our action for the homeless has been greatly strengthened by the Bethlehem Huts and, for prisoners by the Prisoners' Educational Communities. We have opened new centres is numerous nations outside Italy, from Argentina to Nepal, from Greece to Cameroon. Only a community with strong internal cohesion, capable of establishing solid partnerships with the outside world can face up to present-day challenges while keeping an eye on the future. This is why we owe a sincere, profound debt of gratitude to all those who in any way make a contribution to developing that grand plan for the Society of Gratuitousness in Italy and the world over.