The history of the Pope John XXIII Community is inextricably linked with the personal story of its founder.
Father Oreste Benzi was born on 7 September 1925, the seventh of nine children of a poor working-class family, in San Clemente a little place in the Romagna hinterland, 20km from Rimini. At the age of 12 he entered the seminary in Rimini. He was ordained a priest on 29 June 1949 and on 5 July he was appointed chaplain of the parish of San Nicolò in Rimini.
In October 1950 he was summoned to the seminary in Rimini as a teacher and appointed Deputy Assistant for Gioventù Cattolica (Catholic youth) in Rimini, for which he was to become Assistant in 1952. Having maintained his commitment to young people, in 1953 he was appointed Spiritual Director of the Rimini seminary for young people between the ages of 12 and 17 years.
He delivered religious instruction first at the Scuola Agraria (technical school specialising in agriculture) and then at the Licei Classici and Scientifici (academic high schools) in Rimini and Riccione.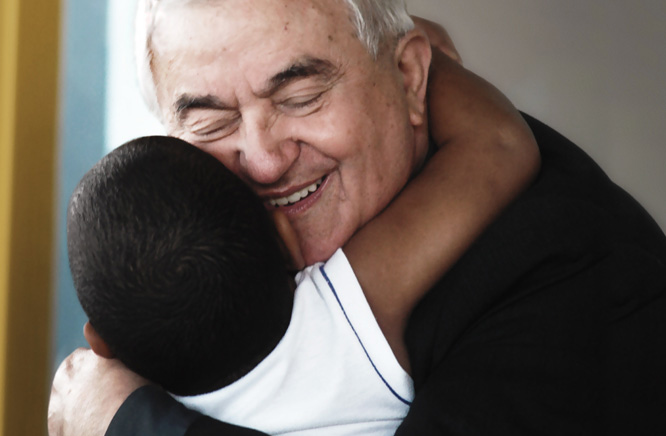 During this period he became convinced of the importance of being a presence in the life of teenagers at a time in which they are struggling to define what would become their ultimate values in life. He considered it essential to organise a series of activities that would encourage a "friendly encounter with Christ". This idea also inspired the construction of an Alpine holiday home for young people in Alba di Canazei, in the Province of Trento, built between 1958 and 1961 for which he visited the United States a number of times to raise funds.
In 1968, moved by his spirit as an innovator, he put forward what was for those days a revolutionary proposal, to include young people with disabilities on these holidays, youngsters who tended to be shut away in their family or in institutions, bringing them to the holiday home Madonna delle Vette in Alba di Canazei.
Together with a group of young people and some priests, in 1968 he formed the nucleus of the Pope John XXIII Association, officially established in 1971 as an association "for the religious education of young people".
His many encounters with people unable on their own to get to grips with life, and thanks to some young people who made themselves available full time, led Father Oreste Benzi to arrange for the opening of the first Family Home in Coriano (Province of Rimini) on 3 July 1973.
From that moment on Father Benzi's life was inextricably linked to that of the Pope John XXIII Community, involving him in countless initiatives standing alongside the poorest people, from his battles against the institutionalisation of people with disabilities, children and elderly people to the rehabilitation of drug addicts and homeless people, from support for the world's poorest nations to the struggle to liberate women, predominantly immigrants, forced into prostitution, from the protection of unborn life to combatting occult sects.
Some of his most deeply moving moments were his meetings with Pope John Paul II together with some young women victims of human trafficking.
When Father Benzi died, during the night of 2 November 2007, Pope Benedict XVI sent his heartfelt condolences, recalling Father Benzi's early enthusiasm for pastoral work as a parish priest and his later role as an indefatigable apostle for charity in favour of the least and the defenceless, shouldering the burden of so many of the serious social problems afflicting the contemporary world.